Honey? Mesquite
Prosopis glandulosa
The first time I gathered and tried to eat Honey? Mesquite was not good tasting. It was nauseatingly sour! Then I found out that some trees (bushes) are that way. So that is why even the horses didn't eat the beans before I got to them! I had gotten them from a horse farm. Since then I have eaten and enjoyed the pleasantly sour Honey Mesquite in a number of ways.

To some Indian tribes they were such an important food item they named the months by the stage of the mesquite. They would eat the buds, flowers and pods. The bean pods ripen between July and September. The seeds themselves are VERY hard, so the pod is the part eaten.

One of the biggest destroyers of mesquite is the Beef industry, because ranchers want the water to grow grasses for the cattle. So they destroy these nutrition laden bushes. (This industry has driven many other plants to near extinction usually because of lack of knowledge.)
---

Mesquite Carrot Soup
Serves Two to Three
by Jolene Allred

2 tablespoons butter 1 cup mesquite broth
3 cups sliced carrots
½ cup chopped onion 1 cup whole milk
1 large clove garlic, minced Fresh ground white pepper
½ cup water

In a large saucepan with a lid, melt the butter. Quickly sauté the carrot, onion, and garlic. Add the water, cover the pan, and simmer until tender. Puree carrots in blender or food processor. Return to saucepan. Add mesquite broth and milk. Season with fresh ground white pepper. Heat. Recipe is easily doubled.
Basic Mesquite Broth
(Wet Method)

This sweet, caramel-like broth is the basis for many delicious recipes.

4 cups broken mesquite pods 8 cups water

Place the broken mesquite pods in a large pot, cover with the 8 cups of water, cover, and boil for one hour. Cool. Wring and tear the pods in the broth, stirring and mashing the sweet pith into the liquid. Or put one cup of the pods and just a little of the broth into a food processor fitted with a steel blade and whirl until the pods are shredded. Repeat until all pods are shredded. Return the material to the broth and stir. The object is to get as much of the pulp into the broth as possible. Drain off the liquid and discard the fiber. Simmer the liquid uncovered until reduced to 3 cups.
---
Texas Through Time, recipes using Mesquite Beans by John Igo
Ethnobotany Cafe Mesquite Connection
---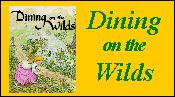 Order Home Books

Copyright © 1997 John Goude
JEG Development info@diningonthewilds.com
When E-mailing do not remove the anti spam * from the subject line.