Amaranth

---
Amaranth an annual grows up to about 6 ft [by the royal measure of king George III], (2meters) [for everyone else] with course alternating oval pointed leaves. Often the tap root has a reddish color. From the base of the leave stems grow the seed spikes. The tiny black seeds are surrounded by sharp bristly bracts which need to be removed before eating See the threshing / winnowing demonstration on video 1 of Dining on the Wilds .
---
Amaranth or Lamb's Quarters Seed Bread

3 1/2 cup flour (some ww good)
1/2 cup amaranth or lamb's quarters seed (put in blender or grinder to make fine flour)
3 T honey or sugar
1 1/4 t salt
1 package quick rise yeast
3/4 cup milk, substitute or water
1/4 cup water
2 T oil or margarine

Combine 3 1/2 cups flour and salt in large bowl, set aside. Combine milk, 1/4 cup water and oil in sauce pan. Bring milk mixture to 125-130 F degrees over low heat. Cool to lukewarm. Add sugar and yeast. Stir in lambs quarters flour and other dry ingredients adding to wet ingredients slowly, mixing in enough remaining 1 cup flour to make soft dough. On lightly floured surface knead 4 minutes. Let rise 1 hour in covered bowl in a warm place. Push down and knead. Make loaves or rolls. Let rise until double in bulk and bake at 325o for 30-45 minutes.

--Ed Hackie, Dining on the Wilds Manual
---
In the spring and early summer cook the greens as you would spinach. Or eat them in a salad.

amaranth seed heads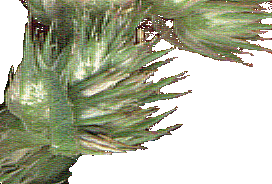 ---
Please e-mail me your method of threshing and recipes.


When E-mailing do not remove the anti spam * from the subject line.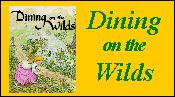 Order Home Books

Copyright © 1996, 1998 John Goude
JEG Development info@diningonthewilds.com
When E-mailing do not remove the anti spam * from the subject line.